As you might know, I am a featured blogger on the
Internations
site and they contacted me with some interesting info they gathered via their Expat Insider Survey. You can find the full survey results here:  
http://www.internations.org/expat-insider/2014/
 and all of the graphs come from Expat Insider on Internations.
Let me share some of the Singapore rankings and tell me what you think in the comments section, whether you agree or disagree. I am thinking it through keeping in mind the most popular post on my blog about my
first year as an expat in Singapore
, plus my experiences over the second year which might be shaped into a new post at some point as things do change in your experience over time.
Best Destinations for expats
Singapore places 6th overall for destinations for expats. It is interesting to see how this is driven, it isn't because of leisure options or personal happiness, Singapore doesn't place in the top 20 for those areas. the 6th spot comes mostly because of a 4th place for travel and transport and for health, safety and well being.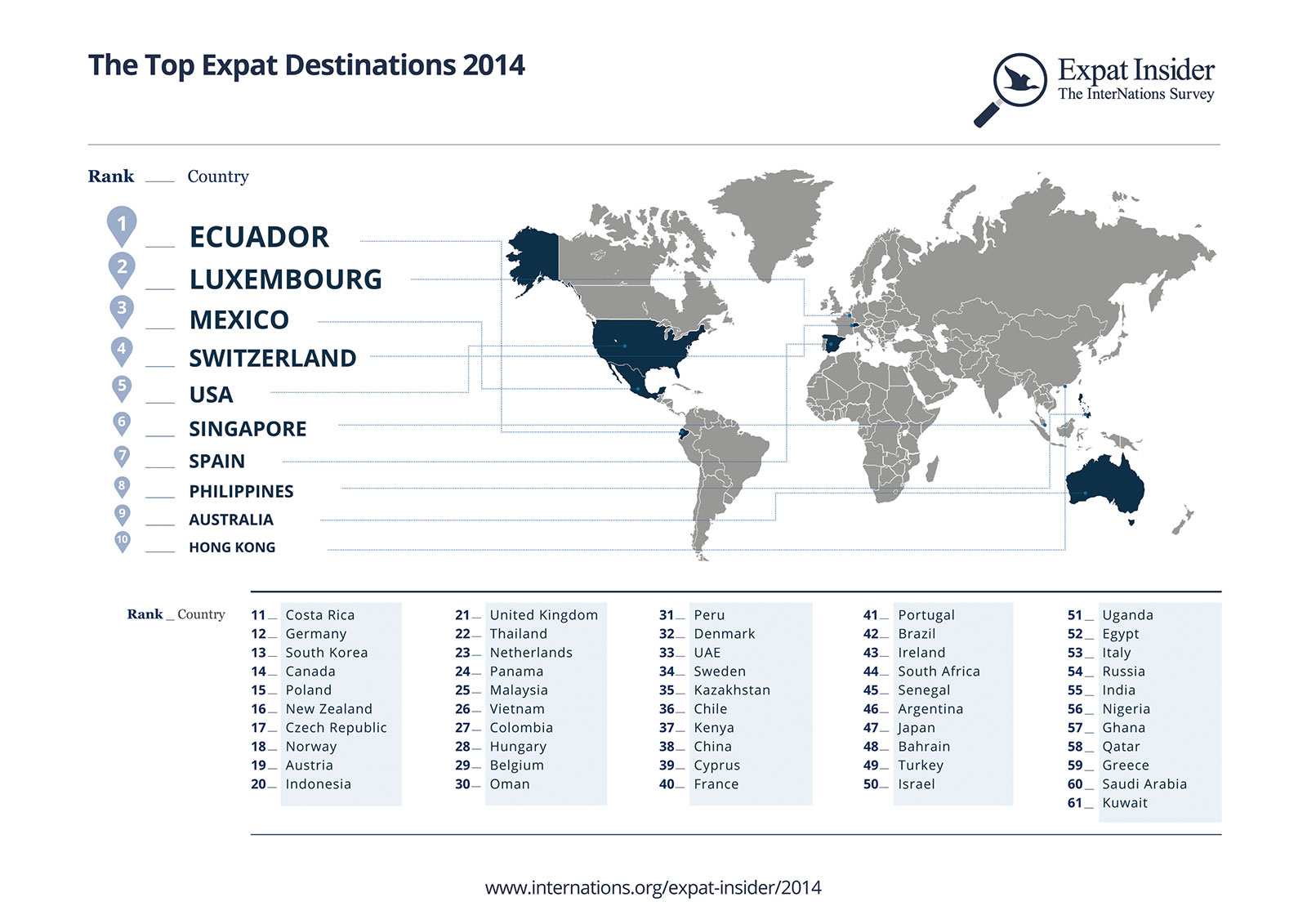 I did find it very interesting though.... I can relate. It is true that there are certain leisure options missing due to it being a small island, and due to certain limitations in place in the country and cultural constraints/priorities meaning there are fewer artistic options available. I know things are improving and there are more art options, music options and films, but things like censorship do limit them still even if it is looking up. Food and drink is well represented. But you won't have leisure options like we did in Nice with the gorgeous beaches, the mountains for skiing and hiking, and canyons and various sports activities.
The personal happiness is an interesting one. My Singaporean friends do comment that there are a lot of complaints from their countrymen where people from other countries don't understand why they would be complaining. An interesting example recently was the announcement that there would be wifi on the buses soon being met by complaints that people's phones would lose all their battery and there should be chargers on the buses too! And when Uber decided to have a free taxi day, people complained they couldn't get a cab, whereas this happens also when you would be expected to pay.... And maybe personal happiness is linked to the leisure options too. But it could also be cultural where there are very high expectations from parents regarding education and career, plus the high cost of property making it hard for young people to move out and have their freedom. So freedom of speech, freedom of choice regarding life path and personal freedom may contribute to the global feeling in the country, for locals and expats. Just my two cents, interested in your opinions too.